INTER-ISLAND


Kewalo Basin ~ Honolulu Hawai`i
---







Flexibility
Inter-Island Sportfishing
offers daily 1/2 day,
3/4 day, and full day
private charters as well
as fullday shared charters.
Inter-island charters or private
sunset dinner and cocktail
cruises are available
as well. Departure from
Kewalo Basin is 6:15am
(unless otherwise notified).
Free parking
is available.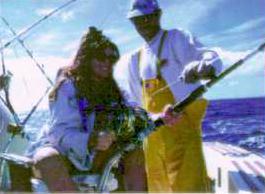 Exceptional
Quality and
Service
A day on the Pacific with the friendly, experienced, and professional crew of Inter-Island Sportfishing will provide every engler with a fully customized charter to suit their exact needs. With a 95% success rate, the luxury vessel fleet provides anglers with top-of-the-line Penn International Gold and Shimano Reels aboard their clean, comfortable and spacious 53' Maggie Joe, and 46' Mazel Tov Sportfishers. No experience or fishing license is required and anglers are asked to bring their own food and beverage. Coolers and ice are provided. Box lunches and catering is available by pre-order for convenience.





Unmatched
Success
Inter-Island Sportfishing currently holds two records for Most Blue Marlin caught in 1995: 168 landed on Maggie Joe and 120 landed on Seahawk - more than any Kona boat! As far as size...they also hold records for the two Largest Blue Marlin caught by charter boats on O`ahu in 1995:
937 lb on Seahawk and 751 lb on Maggie Joe. The Seahawk also holds a record for Most Marlin caught in one day with an astounding eight (8).
---
Clik logo for our NEW SITE


Kewalo Basin
CALL Toll Free: 1-877-806-FISH (3474)
Honolulu Hawai`i
808.591.8888
Hele on to HoloHolo Hawai`i Ocean Sports News
Copyright © 1996 HoloHolo Internet Publishing All Rights Reserved
Pages designed June 26 1996 by Mutha
Last modified: Wednesday - 19990407.18:00 HST